Customer Reviews
09/08/2020
Sean M.
United States
Professional Work
I was worried about what type of product I might get for the price I was paying, but this is an incredible cowl. It's simply a piece of art. Worth the price and worth the wait! This won't be the last cowl I purchase from Tiger Stone. This is a pic of the cowl straight out of the box the day it was delivered. The white eyes are not attached, I took the white screen and shoved it up the front of the mask. Indoors I can't see much with the screen in place so it's really only best used outside or for photos when you don't actually need to navigate, but totally worth the extra couple dollars to have the option.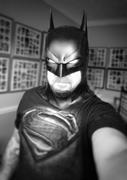 08/12/2020
Josh P.
United States
08/07/2020
Adam R.
United Kingdom
The knight cowl
Simply amazing, great people to talk to even offer advice on what style/ colour to go for etc to suit your needs. Without a doubt one of the best in the business and always on time
I AM the Knight!
Absolutely FANTASTIC, a boyhood dream come true, especially during the pandemic! Exceptional quality, friendly service, Tanja and Nat are both professional and kind, I couldn't ask for better. The cowl fits perfectly, there's even enough room so it doesn't pinch my skin. In addition, it arrived super quick once it was done. Tiger Stone FX are yet another example of how you can't beat hand and homemade products. Gur abh míle MÍLE maith agaibh (Thanks a million), rock on guys!