Customer Reviews
10/21/2020
Daniel S.
United States
Wow, this is the nicest cowl I've ever seen!
Worth every penny and minute of waiting for delivery. Very, very happy with it and would have no problem recommending Tiger Stone FX to anybody considering high quality movie props.
10/21/2020
Johnny
Spain
This Cowl Intimidates Exposed!
Fantastic job guys! Perfectly sculpted cowl! Don´t shine much, but keaton´s cowl shine in some scenes in others appear in matte. The chest symbol is shiny as appears in the film. Now, I need an armor with the same material...hahaha The texture doesn´t hurt your nose or face. Yes, I need filling as Keaton. Product is 100% recommendable! You can use for costume or as an ornament! Only, I miss a stand to put the mask on. I´m really happy! Thanks!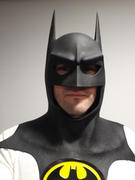 09/10/2020
Jason W.
United States
RT
09/08/2020
Renee T.
Australia
89 cowl and emblem
Guys thank you so much for a fantastic cowl. It's looks and feels great. Can't believe it actually fits my head hahaha. Quality!
09/02/2020
Agi M.
United Kingdom