Customer Reviews
07/02/2020
Daniel N.
United Kingdom
Straight from Keatons Wardrobe ..
I can't say much about it really, beyond AMAZING. It sits among a collection of movie props and memorabilia and every single time I look at the collection the Batman is what stands out and makes me grin. The cast is thick and of excellent quality and the piece is just exceptionally brilliant. Worth every penny!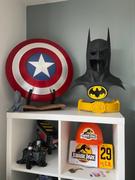 07/01/2020
Simon S.
United Kingdom
06/07/2020
Dustin
United States
What a Geek gives it a perfect score.
This cowl is fantastic I am so glad I bought it. Thank you, and check out my full review on youtube, https://youtu.be/wESN16JYI_g
04/24/2020
RobertHarvey
United States
I'm Batman
I work as a professional stuntman in Hollywood and have had the pleasure to have worked on Batman movies. These mask are 100% legit movie Quality. Ive work with other professional mask makers since buying and they all love it. I will buy more from tiger stone FX I hope he comes out with a Boris Frankenstein mask would love to see Or Popeye arms.
04/23/2020
Steve M.
United States