Customer Reviews
Textures are LIFE!
Right off the fabric like texture of this mask is just killer! Pictures dont do this mask and others like it justice in person up close its such a fresh take on texturing of eyemasks that sets it apart. The fit is great! It scoops around the eyes nicely making the mask look form fitting to the face and eyes. Just as lightweight as you'd hope for and expect, alil prosade along just the left and right edge of the mask's points and it stayed on with no effort or needed maintenance. The color is solid and matches a majority of the green i have in stock of my materials and already made suits. I ordered this mask as a Tim Drake 2019 comic Young Justice piece and i was not disappointed! I think its an amazing piece alone even for collectors looking to add some hero wear to their displays or cosplay and bring you favorites to life. Its a simple design with a unique texture which in person matches very well with fabric/spandex based hero suits, even the armored ones :) highly recommended as a collector piece or even as a essential accessory to your cosplays!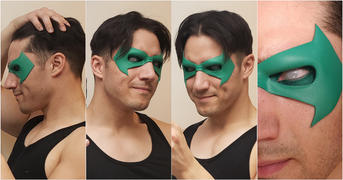 11/07/2019
Troy S.
United States
Very happy
I purchased this over the summer in anticipation of Halloween. It looks great, has fantastic texture and is both flexible and durable. I feared that it was too small originally but once I glued it to my face with prosthetic glue it was great. It stayed firmly in place even through heavy sweat and rain! Extremely pleased.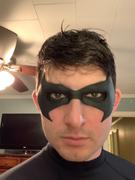 06/20/2019
Marty D.
United States
Best Quality Available
Tanja & Nat have the best masks available to the costuming community, period. The texturing, the flexibility-to-strength ratio, and the price provide for a combination that you will not find anywhere else. I cannot recommend their products enough to anyone looking. This particular product, designed in the style of Nightwing's mask on Young Justice, is accurate and comfortable. I am a very happy customer.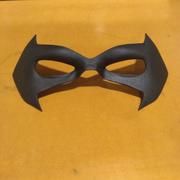 Amazing quality as always
Was really happy to get this mask in the first batch!! Very prompt to arrive and amazing quality as always, tigerstone have outdone themselves with the detail on this one, perfect fit, couldn't be happier.