Customer Reviews
Nightwing Mask
Amazing quality and detail. Purchased for a friend and it arrived in a timely manner, despite me being in the US, and he loved it. Thanks so much. Will shop again.
Amazing mask!
I purchased the nightwing mask and it is beautiful, durable, fits great and is an amazing mask from Halloween to cosplay! I bought Pros Aid to keep it on and it held the mask on all day. It is a quality piece and the sellers are responsive and friendly! Will definitely buy more in the future.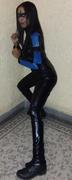 I love this mask!!
I received my mask faster than expected and it's amazing!! They even let me change the original color I highly recommend buying your mask from them
Wonderful
I got the piece on my birthday, during the snow week, so was super happy, all came in one piece, it's a wonderful eyemask, exactly as shown!!! Hope to order from them again!
The Best
In all my dealings with various people and companies in the cosplay community I have never encountered anyone as brilliant as the guys here at TigerStoneFx. They are always extremely helpful and quick to respond to even my most asinine of questions. This is my 4th Mask from these guys and I love this particular mask so much I've just ordered it again in another colour. Like all their products this mask is astoundung quality and beautifully finished. All their work is stunning and adds the perfect finishing touches to your costume. Can not recommend them enough.