Customer Reviews
09/10/2020
Jason W.
United States
RT
09/08/2020
Renee T.
Australia
89 cowl and emblem
Guys thank you so much for a fantastic cowl. It's looks and feels great. Can't believe it actually fits my head hahaha. Quality!
09/02/2020
Agi M.
United Kingdom
08/20/2020
Daniel P.
United Kingdom
Best 89 cowl i have had to date!
Just received my Tiger Stone FX 89 Cowl, Absolutely chuffed with this piece, Flawless, Nice and thick, well worth every penny, Can't wait to get this on display with my custom Jack Nicholson Joker Hat thats being made for me. A personal Thank You to Tanja & Nat for making this, You guys Rock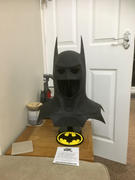 07/02/2020
Daniel N.
United Kingdom
Straight from Keatons Wardrobe ..
I can't say much about it really, beyond AMAZING. It sits among a collection of movie props and memorabilia and every single time I look at the collection the Batman is what stands out and makes me grin. The cast is thick and of excellent quality and the piece is just exceptionally brilliant. Worth every penny!