Customer Reviews
10/26/2020
Jerry B.
United States
10/20/2020
Rebecca L.
United Kingdom
Batman arkham cowl
Absolutely outstanding quality! Excellent customer service, very happy customer, would buy from again
10/17/2020
Alex T.
United Kingdom
best cowl i've ever owned!!!!
i had been looking for a decent cowl for a long time for my arrowverse batman suit, and after recieving my cowl from Tigerstonefx it was exactly what i've been looking for. would deffinantley recommand this website to my fellow cosplayers and will be buying from here again in the near future. thank you Tan & Nat for making such a five star quality cowl and for making my own suit one step closer to complete. The suit is still a work in progress but looks even better now with my new cowl. You've seen the Arrow Suit, the Flash Suit, and the Batwoman Suit. Well here is the Arrowverse Batman Suit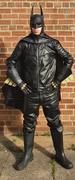 08/28/2020
Matthew L.
United Kingdom
Exceptional
This cowl is an incredible piece of craftsmanship. I've had to pad mine out a little, to elevate it, so I can see clearly but that doesn't in any way detract from the look and feel of it when it's on. I will definitely be ordering again from them again. If you want movie quality production apparel, these amazing guys set the benchmark and they raise it with each new piece. Tan and Nat. Thank you.
07/30/2020
Tyler K.
United States
Dream come true
I ordered this cowl as the first piece in building my own Arkham inspired custom suit. It arrived in a timely fashion and communication was great through the whole process. I have a 24 inch head and it fits like a second skin. I could not be happier with the quality and look of this cowl. 110% worth the price, these folks KNOW what they're doing and are doing it well. Thanks again for helping bring my costume to life! Tyler Koch