Customer Reviews
11/12/2019
HalifaxBats
Canada
Arkham Knight Meets Hush
Now I've been shopping at Tigerstone for a few years now and every time I get more than my monies worth both in quality of product and customer service. They are the ultimate go to spot for the Bat fam fan in you, whether it's Batman, Robin, Batgirl or even Green Lantern face masks. I can't speak highly enough about the attention to detail. As you can tell, the cowl isn't in the conventional Black as it is in the game. I was working on a Arkham Batman/Hush mash up cosplay that demanded a touch of blue. I was told they never had anyone ask for blue so they made mine specially for me, which is one of the things I love about Tigerstone FX. If you have an idea, they will work with you to make your dream come true. I wanted to show some shots of my suit's maiden flight using my new magnificent cowl. It easily stood up to the trials of conventions! One of my favourite features of this thing is it's versatility due to being a 3-piece cowl which grants me the ability to turn my head and look around. No "Bat turns!" So there you have it! The comfort and beauty of this thing is unparalleled and you truly need to see it in person to appreciate all the subtle details and textures. So if you're in the market for cowls, face masks, chest emblems or have your own ideas, hit up Tigerstone FX and you won't regret it. Thanks for reading and you can find me on Instagram @HalifaxBats if you have any questions about all the goodies I've purchased from Tigerstone FX over the years :)
Wicked
I love my other Tiger Stone FX cowls, but there's something magical about owning this one after years of playing the Arkham Series games. The three pieces make the cowl look Hollywood ready, and makes this cowl the most comfortable I own. Whereas my other cowls from Tiger Stone FX have a pristine cut to their designs, this one has the added benefit of even more intricate details. Rivets, the look of metal structural pieces, and those tall ears from Arkham Knight add an unmistakable silhouette. My biggest challenge is to find or make a costume that does this cowl justice!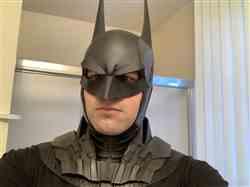 Amazing 3 piece Arkham Knight set!
The quality of these 3 pieces is superb. The detailing is incredible, and they all look amazing together. I am at the upper end of head size, so I found it to be a tight fit at first (particularly taking on and off the neck piece), but I found that by using some water to lubricate the inside and a few times on and off that it is now a bit easier to put on. I also happen to have a slightly longer neck (yes, I am tall!), so I am using a neck gaiter to make everything look completely seamless. Overall, I am super happy with my purchase! Not only will this be great for the various conventions I go to, but it displays nicely as a museum piece too! The shipping was also on time as promised and super fast once sent out!
10/16/2018
Joshua A.
United States
Amazing Quality - Dependable Shipping - Love it!
I was pleasantly surprised when I received my cowl and neck piece - all items were as promised and even more. The communication was great and they met their shipping promise plus some. They are a real stand up team and I'd definitely purchase from them again. I'll be using the pieces in my upcoming wedding and will send pictures for them to post after the event - thank you Tanja and Nat - you rock!