Customer Reviews
06/17/2018
Ibrahim
London, UK
Even better than i had expected
Even better than i had expected, all i can is job well done as i am very impressed with the outcome after waiting patiently for the handling time, now i can carry on being b-man. Thank you!
06/12/2018
Paolo B.
Italy
Batman (The Animated Series)
This cowl is awesome. It's a bit large for me, but it makes it really comfortable and easy to put on and out. The first thing you notice is the high quality of the materials used and the total resemblance of the cartoons' mask. It's really worth the expense.
06/11/2018
Stevan O.
Phoenix, AZ - USA
This cowl is amazing!
This cowl is amazing! When I first opened the box, it blew me away with the quality and accuracy of the look. I'm very happy with my purchase, and recommend Tigerstonefx for anyone looking for a cowl. I'm now considering on getting their gauntlets. I can't wait to go to Cons as my favorite Batman.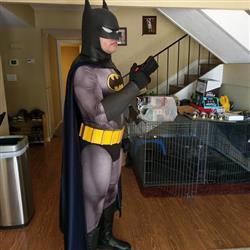 05/21/2018
Henry A.
Guayaquil, Ecuador
Wonderful Batman cowl from the animated series!
This Batman cowl is a great work of craftsmanship! It has no flaws and is very accurate with the sleek, 1992-animated-Batman design. The time it took to make it was exactly the lead time stated in the product page, and between shipping to delivery (to Ecuador) it only took 5 days!!! :) So I'm also very pleased with the punctuality of Tanja and Nate and the shipping service. Excellent work TigerStoneFX!