Customer Reviews
fantastic work
Tigerstonefx never ceases to amaze me. This was my fifth? Sixth? mask from them? I've lost count, but when it comes to cosplay masks, I exclusively buy from their selection. Extremely well-crafted products. Communication is always on point. Shipping is quick and efficient. Absolutely worth waiting for the mask sale days & every penny.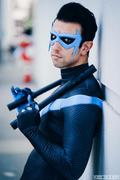 New 52 nightwing mask
I received my mask the other day and as expected it was nothing but perfection, Tanja and nat out do themselves every time!
nightwing dream
My nightwing cosplay is slowly coming together, thanks to TIGERSTONEfx. Let me ask you, have you ever wanted the perfect nightwing mask? buy this. oh god buy this! Did I stutter?. such quality and durability allows maximum wow and movement. in all seriousness, expected great work, and Tanja and Nate definitely delivered! cheers! makes sure to clean properly and use proper bonding glue, spirit glue.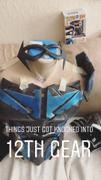 Great mask by awesome makers.
Great mask by awesome makers. Not much more to say because of their amazing work. Very grateful for the work they do!