Customer Reviews
01/23/2020
Derek H.
United States
Great quality and superb service!
I have used TigerStone emblems on nearly every suit that I've ever done. When I was putting together this Hush build, rather than going with the amazing Hush emblem that TSFx, I was recommended this one. As you can see it looks amazing with my Hush gear...it obviously looks great for New 52 as well. I cant recommend these guys enough. Dont waste your time on cheap imitations go with the real deal!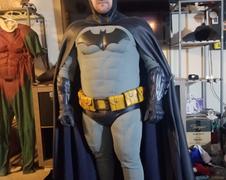 07/13/2019
Pablo B.
Belgium
New 52 inspired Batman chest emblem
Fast shipping and superb craftsmanship
Absolutely Perfect
Beautifully well done, it's comic book accurate, and the edges are machined perfectly. I've tried purchasing a lot of symbols over the years from other vendors, but none have the premium craftsmanship as these! I ended up purchasing a few more, and some matching cowls to go along with them.
Amazing all around
I have been batman costuming for almost 10 years now and this is by far the best quality and cleanest emblem I have ever had! Tanja and Nat are great folks too. Super easy to deal with, you buy with confidence and let them work their magic. I also had it ahead of the quoted time. 100 percent will be back :)
Another great emblem!
Once again Tiger Stone FX has done an excellent job! This is a great recreation of the new 52 comics emblem, perfect if you want to cosplay that version of Batman or something similar. The quality as always is the best. In the pictures you can see I ordered one extra symbol, because I wanted to have a spare part. Thank you Tiger Stone FX! :)